Selections from The E. Buk Collection
of Technology and Invention
29 Oct - 18 Dec 2004

The Christine Burgin Gallery is pleased to announce the exhibition"Selections from the E. Buk Collection of Technology and Invention." Thecollection encompasses historic mechanical, industrial, scientific andtechnological artifacts spanning two centuries. Juxtaposed are earlyarchetypal examples of historic machines, devices and apparatus alongsidetheir less successful yet equally interesting and significant counterparts.





Installation view showing: Marconi two-valve radio receiver, c. 1920; early 20th century star finding device; 19th century electrostatic generator; violin form electromedical apparatus, c. 1900; first solar powered transistor radio, c.1957; pair of 19th century travelling globes, celestial and terrestrial; weight driven telegraph register, c.1870; 19th century vacuum pump philosophical apparatus.





Installation view showing: Perpetual motion patent model, c. 1900; Marconi two-valve radio receiver, c. 1920; 19th century salesman sample of OBGYN examination and treatment chair; Riker electric motor, c. 1895; Electromedical dental outfit, c. 1890s; Western Scanning Disc television, 1929; Complicated binocular 19th century microscope with 20th century primitive handmade companion; Kinora motion picture viewer, early 20th century.





The Violin Vibrophone, manufactured by The Vibrophone Manufacturing Co. Brooklyn, NY, c. 1900
A pseudo-medical device designed to transmit impulses of sound to the ears via stethescopic attachment. The resonant body of the violin is outfitted with mechanical and electrical apparatus used to vary the strength and frequency of these sound impulses.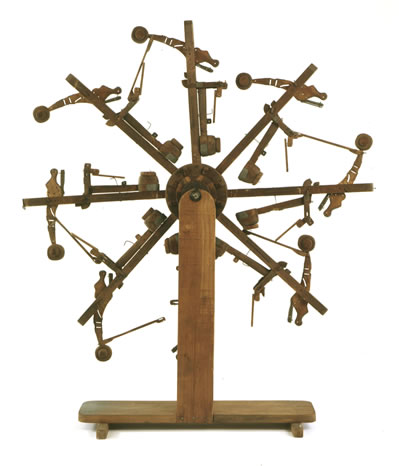 Perpetual motion patent model, c. 1900-1905
A model made for patent application in the centuries old search for mechanical perpetual motion. This device incorporates variations on an earlier design. At the beginning of the 20th century, when patent models were no longer required or accepted by the US Patent Office - drawings and explanations considered sufficient proof of the workability of a submission - models were still required in two areas only: flight and perpetual motion.





Salesman sample gynecologists' examination and treatment chair,
fourth quarter 19th century.
A fully operational scale model in nickel-plated brass and leather.





X-Ray tube on tripod stand and hand-held fluoroscope, first quarter 20th century
In the early days of x-ray, x-ray tubes were used out in the open and unshielded as the harmful effects of overexposure had not yet been discovered. The fluoroscope, invented in 1896 by Enrico Salvioni, was a device used in the direct viewing of images revealed by x-ray.





Man From Mars Radio Hat, manufactured by American Meri-lei Corp.
(Victor Hoeflich owner) in the old Arcadia dance hall
at 918 Halsey Street, Brooklyn, NY, 1949.
A novelty radio in the form of an expeditionary pith helmet outfitted with externally mounted control knob, tubes and loop antenna. Marketed as providing, among other attributes, hands-free mobile use.





Theremin. Manufactured by RCA, c. 1930.
Leon Theremin invented this first truly electronic musical instrument in Russia in 1917. The first production model, made in 1920, was the Aetherophone, meaning sound from the ether. Theremin immigrated to New York and acquired an American patent for his invention in 1928. In operation, the position of the user's hands with relation to the antennae would determine and vary the volume and pitch of the siren-like hum. This new sound was incorporated into sci-fi movies and, later and most notably, was used in early rock and roll repertoire such as The Beach Boys' "Good Vibrations."





Steam engine model with green paint, third quarter 19th century.
During the same period that saw exquisitely crafted and highly evolved steam engines and models for steam engines by sophisticated engineers and machinists, provincial and individual designers, mechanics and craftsmen were devising their own versions and variations. This more primitive example of a walking beam engine is fully hand crafted and incorporates various of the major inventions to date.





Telegraph register, Knox & Shain, makers, Philadelphia, mid 19th century.
A weight-driven clockwork telegraph receiving apparatus embossing coded messages onto paper tape. Messages were sent in Morse code via landline. This is an example of the earliest form of technology accomplishing communication over long distances using electromechanical means.





From left to right:
New England-type hand cranked sewing machine, mid 19th century
Stenographers' recording machine, patented c. 1882.
Check protector, c. 1870s





Mechanical magic lantern slide: gymnastic monkey, fourth quarter 19th century.





Earth inductor, fourth quarter 19th century.
When the wire coil is flipped, an electric current will be induced by the earth's magnetic field. This induced electrical flow may be detected when the leads are connected to a sensitive galvinometer. Alternately, the continued flipping of the coil results in a constantly induced current and, in this mode, the device acts as a generator.





Electromedical outfit in box bearing the label of Jerome Jewell, mid 19th century.
A complete boxed ensemble of induction coil, battery and various applicators to the body. These types of devices were especially directed toward the treatment of so-called "nervous diseases."





Patent model for Ernst Schering's process for the purification of salicylic acid by dialysis bearing the US Patent Office tags of 1877.
Salycilic acid and salicylates were common antidotes to headache but would cause gastric distress. Schering's patent precedes Bayer's introduction of the aceytl compound which counteracted this side effect and greatly improved the efficacy of salicylic acid, now compounded as acetylsalicylic acid more commonly known as "aspirin."





Patent model of a knitting machine, mid 19th century.
This invention utilises two gangs of knitting needles poised at intersecting 90 degree planes allowing for patterns determined by a pinwheel programming system.





Electrostatic generator with glass-legged stool and accessories, mid 19th century.
This is a miniature form of a single plate induction apparatus. Such objects were used as demonstrational tools as well as for electro-medical applications, a major fad and field for experimentation throughout the 19th century.





Motor manufactured by the Riker Electric Motor Co., Brooklyn, NY, under 1891 patents.
An all exposed skeletal model of a 110 volt single amp 1800 RPM DC motor clearly illustrating the rotating armature, the commutator, field coil and frame borne on four corner-mounted lion's paw feet. Riker pioneered the use of electrical motors in transportation.





Marconi 2-valve long-range radio receiver with interchangeable tuning coils ranging from 300 to 530 meters, c. 1920.
Guglielmo Marconi is credited with sending the first "wireless telegraph" ("radio") signals from Poldhu, England to a receiving station in Newfoundland, Canada in December 1901. He is to this day considered the inventor and father of radio.





Western Scanning Disk Television, Western Television Corporation,
Chicago, Illinois, c. 1929.
A motor-driven disc with holes in a spiral pattern spins in front of the "neon" receiving tube. A composite image is then scanned onto the screen. This is among the earliest and mechanical forms of television.





Microscope by R & J Beck, model: "Large, Best," London, mid 19th century.
A highly evolved form microscope utilising binocular viewing and Whenam's prism. A graduated stage with mechanical movements and complicated sub-stage and mirror assembly all supported on double column, rotating arm tripod base. Brass and nickel-plated brass.





"Guide" Output Meter manufactured by Guide Lamp Corporation,
Anderson, Indiana USA, c. 1936.
A hand held accessory for commercial garage use measuring the headlight brightness and battery strength, designed with streamlined and anthropomorphic features.





RDK, c. 1930
Seizing on the newly popularised Abrams theory of Radionics as a from of diagnostic and therapeutic medical "science," this example, with the initials quietly proclaiming "Radio Disease Killer," is among various proposed during the era for use by adventurous physicians and home users seeking relief from minor to major medical afflictions.





Vacuum Pump, electric bell and Grenette cell type battery,
fourth quarter 19th century
A demonstrational outfit. The Grenette cell type battery, via insulated leads, would operate the electrical bell under the dome of this Ritchie pattern vacuum pump. The ringing of the bell in the unevacuated chamber is audible. When the chamber is evacuated, the sound of the bell is rendered very faint or inaudible, thus demonstrating the principle of sound as a function of vibration through air.