Projects & Publications:

Zoe Beloff
Anne Chu
Harrell Fletcher
Hamish Fulton
Rodney Graham


Ricky Jay


Paul Lincoln
Allan McCollum & Matt Mullican
Matt Mullican
Max Neuhaus
Maria Nordman
Allen Ruppersberg
Michael Smith
Robert Walser

In 2005 the gallery invited Ricky Jay to curate the exhibition Twixt Two Worlds. Drawn from Ricky Jay's extensive collection of material relating to the history of deception, the exhibition explored the complicated and revealing relationships between magicians and mediums in the late 19th century at the height of the spiritualism movement. The exhibition traveled to the Nelson Gallery at the University of California, Davis. To accompany the exhibiton, The Nelson Gallery and Christine Burgin copublished a catalogue in the form of a two-sided "broadside", extensively illustrated and with Ricky Jay's text for the exhibition reproduced in full.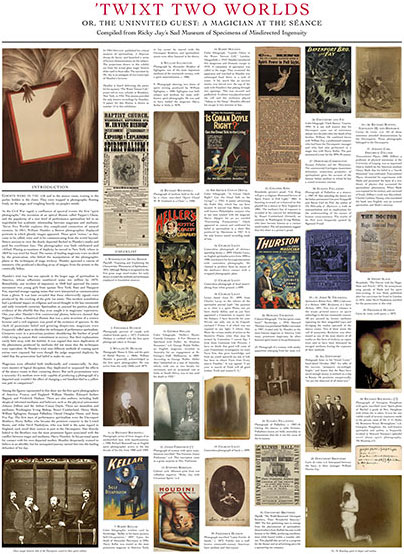 Twixt Two Worlds, 2006
two-sided offset lithograph
24 x 18 inches
Published by the Nelson Gallery at UC Davis and Christine Burgin
$40
Available for purchase gallery@christineburgin.com